No, I have no valid excuse for not updating this blog in over a month. This is obviously something I haven't put priority on and it shows. So - to update you on what's transpired since my last post...

1. April ended and May began!

2. The fam took a trip back home to visit our loved ones. Long car drive (12 hours one way); but Mac did all the driving and Faith was a very good girl! It'll be a good long while before we do it again though...
3. May ended and June began!

4. Here we are...

And you wonder why I never blog? Not much happens that seems "blog-worthy"; but I'm working on that.

Anyhow - I guess I haven't been overly excited this year about much of anything. Mac's work schedule changed in January and the entire year I've been moping about it. I just realized that I've been a grump for 5 entire months about it, and am NOT interested in making it 6...that's half a year! *read entirely too much time to devote to thinking negatively about something*

So you know what I decided to do??? Make lemonade!!!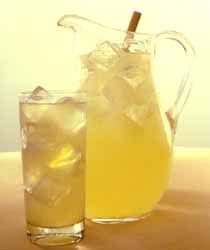 I'm serious y'all! I sat Faith in her jumper thingy, marched into the kitchen and made some lemonade! I'll be honest, this was my first time EVER making lemonade, so I had to google a recipe (don't laugh at me). I followed it to the T (with the exception of only having 5 lemons instead of the 6 that the recipe called for), and I think it turned out rather refreshing! (IIDSSMS)

So basically - I'm sick of the sour face and decided to add some sugar and water and take a swig and say "aaaaaahhhhhh!" I'm 2 blessed 2 be bound for goodness sake! Baby's crying...gotta go!

P.S. I joined a book club, LOL!